In today's rapid financial landscape, white-label trading platforms can help aspiring and established brokers remain ahead of the curve. Whether you're launching your brokerage business or looking to expand your offering and platform range, white-label trading platforms are the optimal choice. As fully supported products or services, they offer rapid time-to-market, cost-efficiency, brand recognition, and valuable customization potential.
DXtrade: Your white-label trading solution
Being a unique, trailblazing suite of broker-agnostic trading platforms, DXtrade has reshaped the trading experience. It offers brokers a myriad of benefits, including sophisticated risk management tools, turnkey integrations, and advanced customization capabilities. DXtrade platforms are fully adaptable to the demands of an ever-changing trading environment, making them an ideal solution for both new and established brokers.
DXtrade white-label trading platforms cater to a broad spectrum of financial instruments.
DXtrade CFD is designed for brokers offering forex (FX), contracts for difference (CFDs), and spread bets. It features top-level technical analysis tools, advanced built-in risk management capabilities, and a powerful charting package offering over 80 indicators.
With multiple order types and execution methods, you can cater to every trading style. You can even tailor your trading dashboard to target different client groups.
The included DX Management Console (DXmc) provides an easy way to handle your brokerage's daily operations.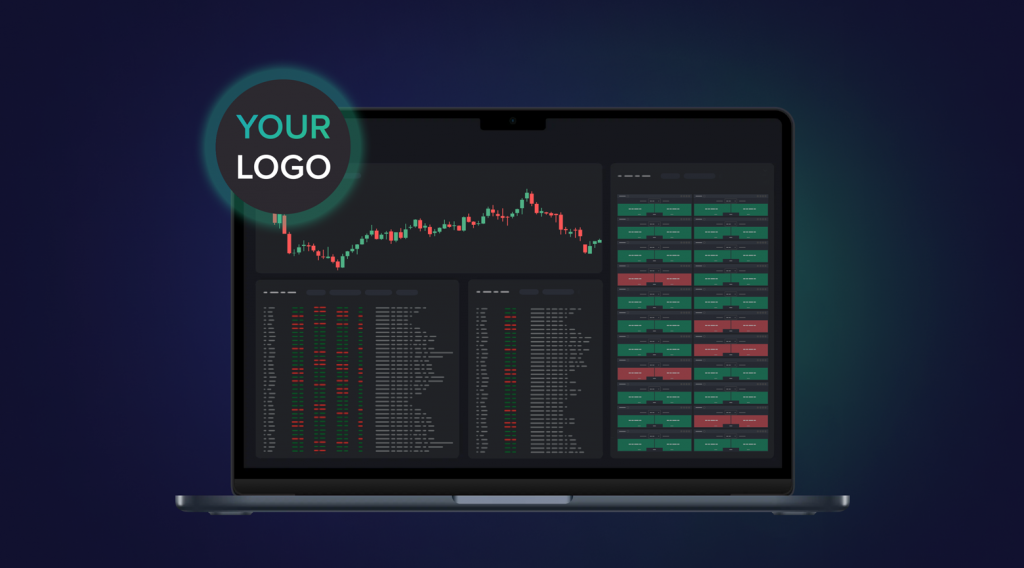 DXtrade XT provides a sleek web experience for brokers offering exchange-traded instruments like stocks, options, futures, mutual funds, and bonds. Both investors and brokers can configure and personalize its layouts, watchlists, and widget settings.
DXtrade XT leverages a modular UI for a streamlined, efficient workflow. It includes an integrated trading journal, eliminating the need to manually maintain a spreadsheet or store records in a third-party extension.
With the user-friendly admin panel, you can efficiently manage client orders and accounts, and adjust risk settings.
DXtrade Crypto is a cutting-edge platform for brokers who offer spot and margin cryptocurrencies. Its many features include advanced charting and drawing tools, a multi-currency account view, a trading analysis dashboard, customized and public multiview watchlists, and one-click trading functionality.
With the real-time, configurable Exposure Monitor widget, you can make informed risk management decisions. The Account Details, Positions, and Order widgets enable you to seamlessly execute on-behalf trading.
Each DXtrade platform is optimized for usability and an expedited setup, making it accessible to startups and experienced brokers alike, and can be fully customized to reflect your brand and your specific requirements. You'll get a dedicated account manager, 24/7 support, and integration with a liquidity provider of your choice, all at no additional cost.
Thanks to a comprehensive set of APIs, you can easily integrate your DXtrade platform into your existing brokerage operation. Plus, with native mobile apps for iOS and Android in addition to the sleek web interface, you'll be able to run your brokerage even on the go.
Streamlined brokerage solution for success
DXtrade provides start-up brokers with a streamlined, cost-effective solution; it empowers you to launch your brokerage in just a few weeks! This saves you time and resources on market research and software integrations, so you can focus on acquiring and servicing clients.
With DXtrade's advanced customization features, you can tailor your services to meet your clients' unique needs by providing a seamless, bespoke trading experience. The modern, intuitive design is sure to win over clients who are tired of outdated legacy platforms. From a basic buy/sell interface to a sophisticated multi-screen layout with advanced graphs, DXtrade has everything covered.
DXtrade also incorporates advanced risk management features. The platform offers a balance between automation and manual control, providing brokers with a robust yet flexible risk management approach.
As your business grows, DXtrade scales alongside your operations! DXtrade offers opportunities to transform the platform into a custom solution, and even buy out the source code.
Devexperts: The brain behind DXtrade
For almost two decades, Devexperts has specialized in providing financial firms with a technological edge, helping them adapt and grow in the competitive financial market.
Devexperts' in-depth expertise and commitment to technical excellence have enabled it to revolutionize the brokerage landscape with innovative, best-in-class software products, which are trusted by businesses around the world.
Partner with DXtrade: Embrace the future of trading
By choosing DXtrade white-label solutions, you're not just adopting a platform; you're choosing a future-proof trading solution that can adapt to your business's evolving needs.
DXtrade empowers you to unleash your brand's potential and offer your clients a cutting-edge trading experience that stands out from the competition.
With DXtrade's tools, you can provide your clients with state-of-the-art trading platforms, without the associated developmental costs and time constraints.
Contact us and experience the revolution of white-label trading with DXtrade!