A great way to kickstart 2021: DXtrade is coming back stronger and healthier than before. Welcome aboard the recent additions to our widget roster and explore what's new!
For Brokers
Account Credit Line Management
The days when brokers had to tinker with API to configure credit lines for trader accounts are long gone. Now you can assign credit line values with a dedicated control in the Account List widget.
To do so, launch your DXdealer desktop application, open Account List, right-click on an account and select Change Credit. Specify the desired credit line value in the text field and click Apply to confirm.
Broker Price Alerts
Be sure to alert your traders when the price fluctuations exceed a predefined level (if, of course, they have these alerts enabled in their web terminals). This way, you can prompt them to trade a volatile asset at the right time. You are free to view, create, and modify price alerts in the Broker Price Alerts widget.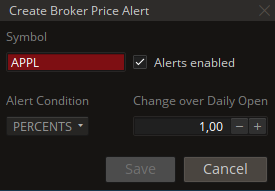 Busts Support
Sometimes, price feeds deliver a continuous flow of erroneous prices that cannot be filtered out by the spike filter. If this is the case, brokers have to recall or bust all trades executed by their clients during that time. With the Position Recovery back-office tool, you can bust a series of trades over a selected period in a few clicks.
Open the Position Filter tab in the management console to generate a list of trades to be called back. In the Bust tab, upload the list of trades and click Bust. The trades in the list will disappear from the platform as if they never took place.
Full Order Support for STP Execution Strategy
Brokers who hedge their client orders with external platforms need to execute limit orders in parts as soon as the requested price is available. DXtrade now supports a full order cycle for those who use the STP execution strategy. It means that even if a client order is rejected or partially filled due to the rejection of the related hedging order, the system will rework the rejected client order and resend it to external execution.
For Traders
Busts Support in Order History
Just as brokers can bust trades en masse, traders can immediately view all orders recalled by the system in the web terminal. Bust events are now added to the order type filter.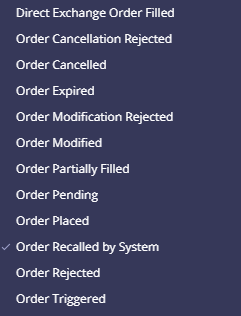 Broker Price Alerts
Now you can receive system notifications when the price level exceeds a broker-defined value. To receive alerts from the broker, activate the Broker Price Alerts toggle in the web terminal. Feel free to view all alerts or create your own ones in the Alerts widget.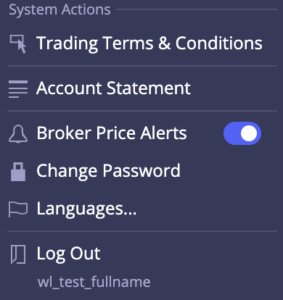 Word has it more updates are on the way. Stay tuned,
The DXtrade team