2022 is finally here! We are closing the door on 2021 with a polite and friendly bang and a boxful of DXtrade improvements, additions, and other holiday season presents. Read on to find out more.
Integrations
Integration with OneZero
DXtrade trading platform has strengthened its offering by integrating with OneZero, a leading technology and data hub. This time, we have added an opportunity for FX and CFD brokers to plug into OneZero pricing and risk management system. With this addition, we've expanded the number of liquidity vendors available to brokers through the OneZero hub.
Web
Indicative Currency Revaluation
With indicative currency revaluation, DXtrade is making another step toward users with a background in crypto. Before that, account metrics such as balance and P&L were displayed in the account base currency. Now, even with accounts nominated in BTC, traders are able to browse essential metrics in a fiat currency (USD or EUR).
To do so, users need only to navigate to the hamburger menu in the top right corner of the web platform, click Ind. Re-Eval. Currency and set a currency from the list as an alternative. The list of alternative currencies can be configured by the broker. The alternative currency will appear in the currency selector switch. Users will then be able to toggle between main and alternative currencies, and the account metrics will be immediately displayed in a selected currency.
Webpage Widget
We've added a simple but fully customizable Webpage widget to DXtrade Web. Using this widget, brokers can embed their own web-based content into the trading platform. For example, they can add multiple Webpage widget pointing at different resources to bring a help manual, promotional or educational materials to traders.
Crypto-Specific Layout
For all crypto enthusiasts out there, we've added a crypto-specific layout to our demo platform at crypto.dx.trade. Go to My Trading Account to work with the layout tailored for crypto trading. It includes Market Depth widget and crypto instruments in the watchlists and charts.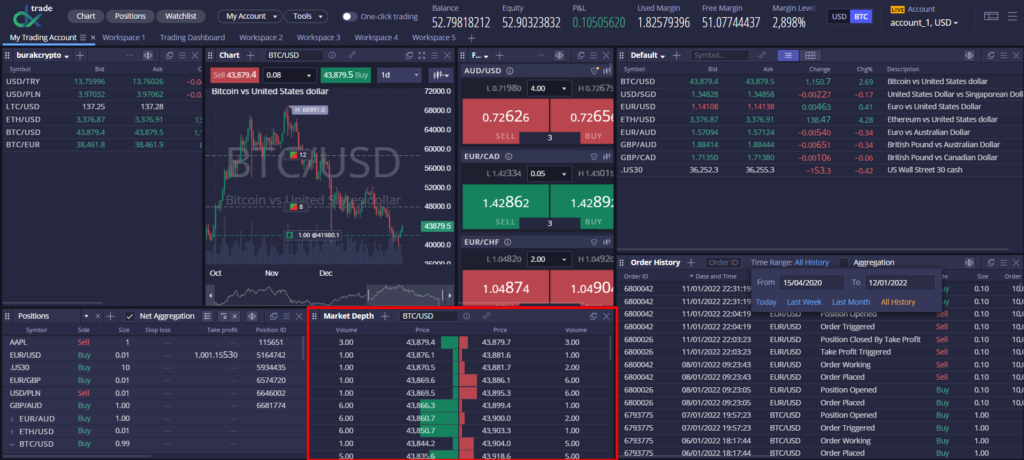 Back-Office
Remaining Positions Report
We are committed to giving brokers as much valuable information on their affairs as possible. With Remaining Positions, we are bringing the number of reports currently available to brokers in the back-office application to a whopping seven (in addition to Account Movements, Commissions, Financing Report, Money Flow Report, Profit by Instrument, and Rebates by Month). In Remaining Positions, brokers can view historical position details at EOD across selected client groups and accounts.
We've also been busy working on bringing you a really massive mobile update after the holidays. We'll tell you more about it in our next release notes. Meanwhile,
Stay tuned,
The DXtrade team