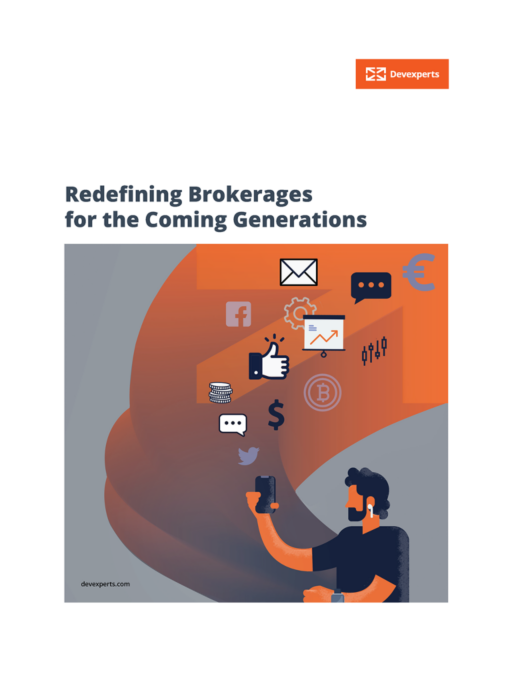 Download the white paper:
Broker Guide: How to Attract the Next Generation of Investors
This guide reveals five technological advantages, which help brokerages attract Millennials.
What you will learn in this white paper
1
What millennials are looking into any financial company
2
Why to approach millennials and best ways to do it
3
How brokerages can prepare for the coming technological overhaul
About White-Paper
Millennials are the first generation to be born into the digital age. They are set to inherit the largest amount of wealth in history (Four trillion in England and America alone). Soon millennials will be amassing their own wealth, paying down debts and starting to think about how to invest it.
Being products of the digital age, Millennials should be approached differently from their parents, as they are vehemently focused on self-learning via online tools and prefer to manage their accounts themselves via online banking and mobile applications. At the same time, they are more willing to take chances on innovation and are more accepting of automation.
So, what will millennials look for in brokerages they choose to trust their money with?
The two main trends millennials look in any company they trust their money with are sophistication of technology and transparency. This is a generation raised through a series of economic disasters caused by corruption and dishonesty. Transparency of financial services means open books, the ability to review daily economic transactions, and an honest path to the preservation of wealth. This is also the generation raised on smartphones, YouTube, and instantaneous communication from anywhere in the world. Technology moves faster in ever-more complex ways, making the path forward clear: sophisticated new technologies will play a significant role in the future of wealth management.
Read this report to find out about the five ways brokerages can gain a technological advantage to attract the next generation of investors.